Things To Do
Giant Salamander Museum (瑞穂ハンザケ自然館)
The giant salamander is the largest amphibian in the world and can only be found in three countries in the world: the United States, China and Japan. While the Japanese giant salamander is only slightly smaller than its Chinese counterpart, it still grows to over a meter long (about 3 ft) and can weigh over 25 kilograms (55 lbs)! Japanese giant salamanders are abundant in the rivers Chugoku region of Japan, and studies indicate that there are 5,000 in Ohnan alone.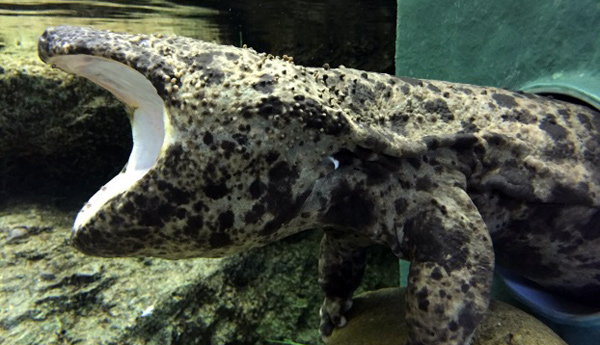 This rare animal has been designated as a National Treasure by the Japanese government and as such is a protected species. This means that if you come across one in the wild, you can only enjoy it from a distance. The Giant Salamander Museum offers a chance to see real, live salamanders up close and in person.
Visitors can also see giant salamanders in all different life cycles, something which is extremely rare. This baby (about 4 years old) is quite popular because of the unusual pattern over its eyes, making it look like a panda.
There is river within walking distance of the museum where, if you're lucky, you can see giant salamanders in the wild. Observation surveys open to the public are held twice a year in July and August. Here you can interact with this rare species in their natural habitat and get to actually touch them. Contact the Ohnan Tourism Association for more information.
YouTube:https://youtu.be/rm2Uk9TtUb0
Hours:June – September 10 a.m. – 5 p.m. / October – May 9 a.m. – 4 p.m.
Closed: Mondays, and the day after a national holiday
Admission: Adult 300 yen; Child 150 yen
Address: 475 Kami-kamedani, Ohnan-cho, Ohchi-gun, Shimane Prefecture >MAP
住所 〒696-0224 島根県邑智郡邑南町上亀谷475
Tel: 0855-83-0819 (Japanese only)
Website: http://www.ohtv.ne.jp/mizuho-hanzake/

Koboku no Mori Garden (香木の森ガーデン)
This European-inspired garden is bursting with vibrant colors and sweet aromas, and is particularly breathtaking between the months of April and July. Koboku no Mori hosts over 240 types of flowers and herbs displayed in four themed areas (Classical, Thyme, Knot and Rock Garden). The garden is completely organic, and safe for kids and pets. The grounds include the Rose Walk – home to 60 species of roses, a greenhouse with 150 herbs and flowers for visitors who want to start their own garden, blueberry and Japanese cherry picking (seasonal) and more! Stop by Craft-kan, Ohnan's tourist hub, to purchase local goods and souvenirs.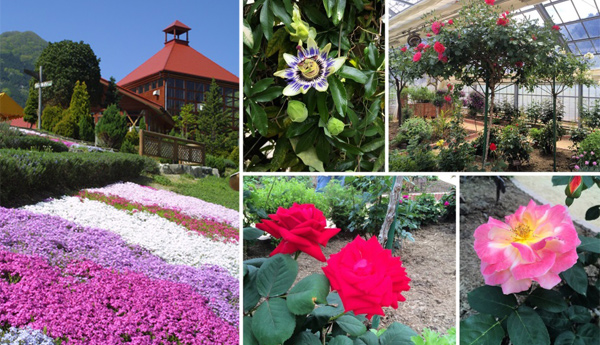 Buy fresh herbs at the greenhouse, such as basil, rosemary, mint, coriander and parsley.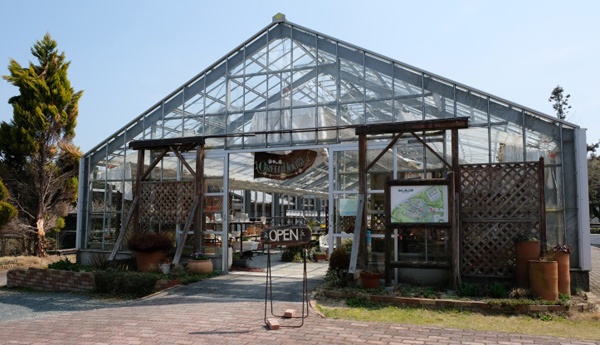 Greenhouse Hours: 10 a.m. – 3 p.m.
Closed: Tuesday
Commitment to Organic Gardening
Since 2015, Koboku no Mori Garden has been dedicated to using chemical-free fertilizer and pesticides to maintain its grounds. Our gardeners use organic farming techniques, spending long hours carefully tending the array of herbs and flowers. Why go organic? We wanted to create a garden where visitors could relax and also be able to interact with the aromatic herbs and plants to their heart's content, without the worry of dangerous chemicals. In Ohnan, we strive to be the number one town in Japan for raising children. We know that kids will be kids. They will run and tumble, and touch, smell and taste the world around them. Because of our commitment to organic gardening, parents can be rest assured that everything is safe to interact with. Dogs can romp and nibble on what they want. Visitors can enjoy the clean, fresh air and refresh their minds and bodies. We believe these are the fundamental qualities any garden should have and welcome you to experience them.
Craft-kan (クラフト館)
Craft-kan is Ohnan's tourist and souvenir hub. It provides herb tea, aroma oils, hand-selected souvenirs from the surrounding area, as well as local goods such as blueberry jam, cheese, Japanese sake and even Ohnan's two homebrewed beers - lemongrass and basil. Craft-making and special classes using herbs from Koboku no Mori Garden can also be arranged. Please contact us for more details.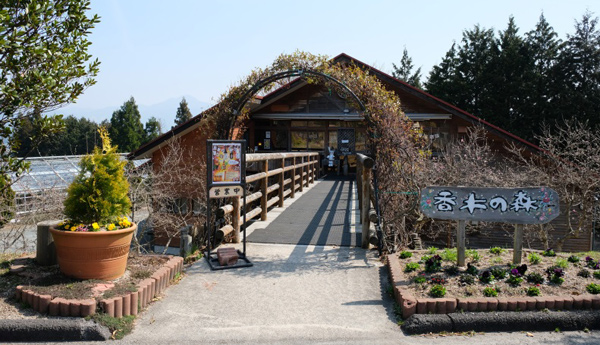 Locally made flower arrangements

Handmade jewelry

Ohnan-brewed lemongrass and basil beer

Local Tamazakura and Shinigami Japanese sake - Try our One-cup Shinigami

Ohnan's famous organic herb tea. Six flavors: Refresh, Moisture, Comfort, Vitalize, Calm and Sleep

Local dried herbs: Rosemary, mint, lemon verbena, stevia, lemon balm and lemongrass
Financier cakes: Miso and green barely

Locally made milk jam - Great spread for bread

Popular blueberry juice and jam

Fresh blueberry sauce and jam set

Pick out your own decorations and make your own crafts!

Craft-kan offers a variety of plants to choose from!
Hours: 10 a.m. – 4 p.m.
Closed: Tuesday
Admission: Free
Address: 7154-10 Yakami, Ohnan-cho, Ohchi-gun, Shimane Prefecture 696-0103 >MAP
住所 〒696-0103 島根県邑智郡邑南町矢上7154-10
Tel: 0855-95-2369 (Japanese only)
Ohnan Historical Folk Museum (邑南町郷土館)
The Historical Folk Museum exhibits objects and artifacts dating back hundreds of years. The charm of this museum is that it collects items that locals, or their ancestors, actually used. Each of the items has its own story, from old devices used to forge iron, to traditional weaving looms and tools used for work in the fields.
Shimane Prefecture is famous for its iconic history in iron making. This history is portrayed through the numerous photographs on the walls and artifacts discovered through local excavation efforts. For those familiar with Studio Ghibli's Princess Mononoke, the standing foot bellows at this museum are a real treat to see. Many replicas exist throughout Japan, however there are only three original foot bellows left in the entire country - one of which is housed at this museum.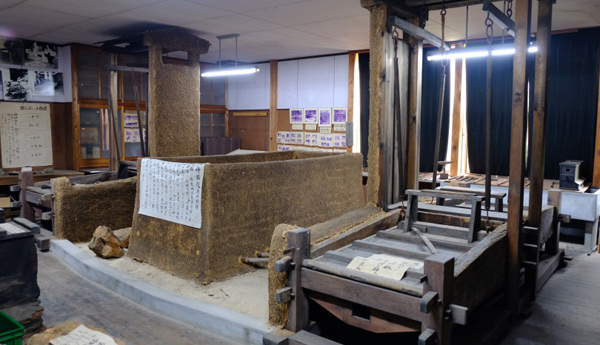 Foot bellows – tenbin fuigo 天秤ふいご
The Historical Folk Museum also offers two activities: extracting iron sand from the soil; and using a traditional mortar stone (millstone) to make soy flour (kinako きな粉, often sprinkled on dango, or sweet rice dumplings similar to mochi). (Please reserve activities in advance. Contact us for prices and further information.)
Items found inside of traditional Japanese-style homes

Farming tools used by Ohnan locals

Remnants of materials used in sword-making process

Chinese pottery shards discovered in Ohnan
Iron Sand Extraction (砂鉄採取体験)
For those familiar with Japan's history of tatara (iron making), extracting iron sand (satetsu 砂鉄) from the soil is an essential first step when making iron. This is an experience that really speaks to the heart of Japanese culture and is a fun group activity. Estimated time: 10-30 min.
Traditional Mortar Stone-Crushed Soy Flour Activity (石臼挽ききな粉づくり体験)
Using a traditional mortar stone (millstone) to crush soy beans and other materials into powder used to be a common activity in Japanese households, and but has now mostly fallen out of practice. This is a chance to experience a traditional way of making everyday food. Estimated time: 10-20 min.
Hours: 9 a.m. – 4 p.m.
Closed: Sat. & Sun., national holidays, beginning and end of year holidays
Admission: Adult 300 yen; Child 150 yen
Address: 210 Shimo-kamedani, Ohnan-cho, Ohchi-gun, Shimane Prefecture 696-0223 >MAP
住所 〒696-0223 島根県邑智郡邑南町下亀谷210
Tel: 0855-83-1580 (Japanese only)
Iwami Onsen (Kiri no Yu Onsen, いわみ温泉 霧の湯)
Just a 5 minute walk from Ohnan's tourist and souvenir hub Craft-kan is Iwami Onsen (also known as Kiri no Yu). Visitors will find a restaurant, hot spring and ryokan (traditional Japanese-style hotel). Located atop a hill, the facility offers a beautiful view of the lake and surrounding basin. Visitors can see touches of countryside life everywhere, from the warm smiles on the faces of the staff, to the zodiac themed wood sculptures outside carved and donated by a local.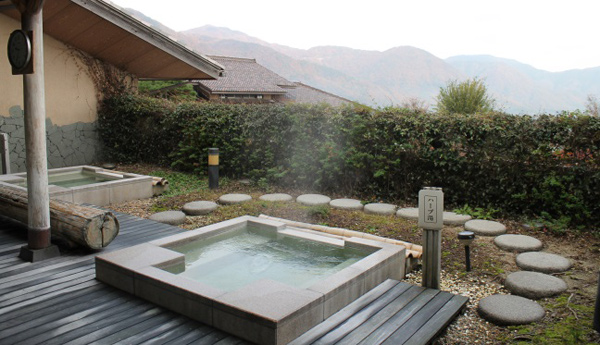 Iwami Onsen offers indoor baths, a sauna, and even rotenburo (outdoor baths) that use freshly-picked herbs from Koboku no Mori Garden. Visitors can enjoy a soak while breathing in the scents of lavender, rosemary and other aromatic and medicinal herbs.
After a dip in the onsen, there are massage chairs, vending machines with soft drinks and ice cream, and a tatami (grass mat) lounge that overlooks the adjacent lake. Patrons are free to go back and forth between the baths and lounge area as many times as they like.
Right next door is Restaurant Irodori, a quaint dining area with western and tatami seating, so you can also sit down for a peaceful lunch or dinner. This restaurant also offers Ohnan's famous Iwami wagyu beef and Iwami pork (advance reservation required). For those who want to stretch their legs after a warm bath, there is a short walking trail around the adjacent lake, complete with gazebo.
Iwami Onsen Information
Hours: 10 a.m. – 9 p.m. (Reception closes at 8:30 p.m.)
Closed: Second Tuesday of every month; Fourth Tuesday in August
Admission: Adult: 650 yen (Town residents 500 yen)
Children 6-12 yo: 350 yen
Children under 6: Free
Address: 8532–2 Yakami, Ohnan-cho, Ohchi-gun, Shimane Prefecture >MAP
住所 〒696-0103 島根県邑智郡邑南町矢上8532‐2
Tel: 0855-95-3505 (Japanese only)
Japanese website (http://iwamionsen4.wixsite.com/mysite)

Items Available for Purchase:
Bring your own toiletries and towels, or purchase some at the reception desk.
Wash cloth: 100 yen   Razor: 100 yen
Bath towel: 400 yen   Comb: 100 yen
Toothbrush: 50 yen    Shower cap: 50 yen
*Prices subject to change. Tickets and other hot spring-related items are purchased from the ticket machine. Only those who have purchased an onsen ticket may have access to the second floor lounge.

Access
Don't have a car? No problem. An expressway bus travels from Hiroshima Station to Ohnan, and a quick hop on a local bus lets you off right at the front door. Click here to see information on public transport.

Dangyokei Gorge (断魚渓)
Dangyokei Gorge was designated as a National Place of Scenic Beauty in 1935, and a visit to this pristine location makes it clear why. This majestic 4 km long nature park towers to heights of over 100 meters. The river running through the bottom of the ravine is a tributary of Gōnokawa River – a major waterway extending 194 km from Hiroshima Prefecture to the coastline of Shimane Prefecture.
Dangyokei offers a variety of sights: waterfalls scattered across the gorge, prominent V-shaped fissures, tiered rock formations, flat, expansive bedrock, and more. The bedrock is composed of layers of rhyolite rock - a product of volcanic activity dating back approximately 30 million years. Over time, the Gōnokawa River eroded rivulets between the weaker layers of rock, artfully carving the distinctive V-shaped crevices. In some parts of the gorge, strong water pressure caused fissures to widen, creating deep chasms through which the water now freely flows. Water pressure also caused rock downriver to collapse along fault lines, creating the stair-like effect that gave Dangyokei its name (literally: split-level gorge with fish).
Visitors are free to explore the gorge on their own, and guides can be arranged for a more comprehensive tour. Contact us for more information.
Admission: Free
Address: Ibara, Ohnan-cho, Ohchi-gun, Shimane Prefecture
住所 〒696-0103 島根県邑智郡邑南町井原
*Please note that the regular entrance to Dangyokei Gorge is currently inaccessible due to fallen trees. Refer to the map below for an alternate entrance to the gorge. Updated April 2018.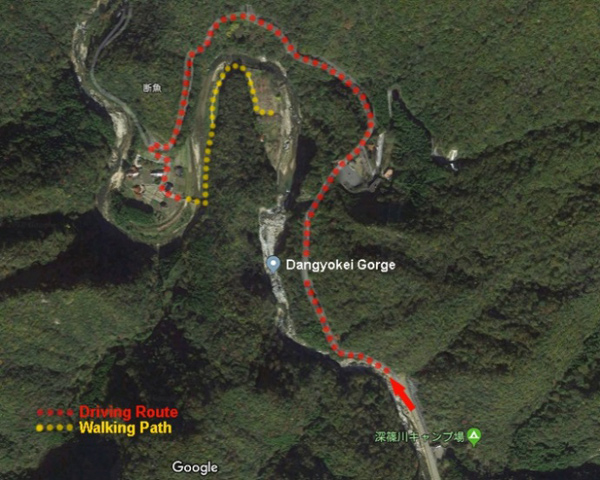 Kagura (神楽)
Kagura is a traditional performance art originally dedicated to Shinto gods that depicts Japanese legends of old. It is now a form of entertainment where performers dance on stage while wearing elaborate and colorful embroidered costumes and is enjoyed by people of all ages. Each kagura troupe's portrayal of Japan's ancient stories is unique, providing a culture-packed, exciting experience for the whole family.
Kagura in Ohnan is known as "Iwami Kagura," and is danced at a higher tempo compared to other kagura performances throughout Shimane. Kagura is great fun to watch, and can be seen at most local festivals. Contact us or take a look at our Facebook Page for more information.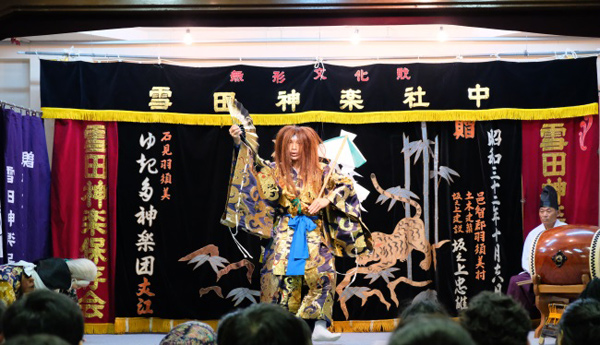 Meet-and-greets can be arranged after performances where you can talk with members of the kagura troupes, and snap commemorative photos of yourself with the clothing, masks and props. Contact us if you would like to see a performance and set up a meet-and-greet!